Sclerotherapy Treatment In Portsmouth, NH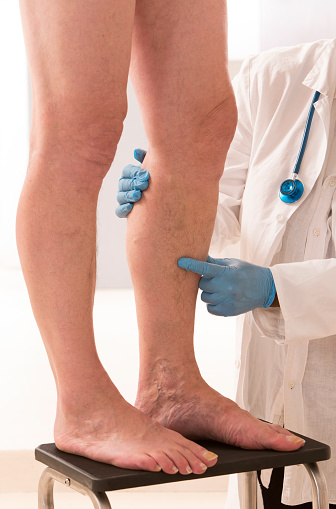 Sclerotherapy is a medical procedure utilized to treat varicose and spider veins. It involves an injection of a solution directly into the vein, which helps it collapse and fade away over time. At Ballentyne Medical Aesthetics, we're a reliable med spa in Portsmouth, NH, that specializes in sclerotherapy. Still, also we provide other skin treatments such as acne treatment, tattoo removal, dermal fillers, and cool sculpting.
We know how important it is to have a doctor you can trust for your skin. That is why we have invested in the best technology and products that meet our strict safety and efficacy standards. We also take pride in providing each patient with a warm, inviting atmosphere. Our main goal is to make our patients feel safe, comfortable, and confident when undergoing a medical procedure.

Benefits Of Getting Our Sclerotherapy Treatment
Sclerotherapy is a safe, non-invasive procedure used to treat spider veins in ankles, calves, thighs, feet, face (frequently the sides of the nose), and anus. It works by injecting a solution directly into the vein that causes it to collapse and fade away over time. By eliminating these unsightly veins, the appearance of the skin is improved. Benefits include:
Improved circulation
Reduced tissue damage & pain
Elimination or reduction of spider or varicose veins
Quick recovery time and minimal side effects
Long-lasting results
At Ballentyne Medical Aesthetics, we strive to provide our patients with the best care and most up-to-date treatments available. We are dedicated to helping our clients reach their desired results in a safe, comfortable environment. If you're ready to benefit from Sclerotherapy Treatment in Portsmouth, NH, and start saying goodbye to unsightly spider veins, our med spa should be your first stop!
Steps To Take To Start Your Sclerotherapy Treatment With Us
Schedule an initial consultation with our medical team.

During the consultation, we will evaluate your skin and discuss expectations for results.

After the consultation, a personalized treatment plan will be developed that includes recommendations on what type of sclerotherapy is best for your goals.

Finally, you will get your sclerotherapy treatment right here in our med spa, and then we will provide you with the resources and follow-up care to ensure the best results.
Visit Ballentyne Medical Aesthetics For All Your Skin Care Needs
Looking for a way to regain the confidence and beauty of your skin? Ballentyne Medical Aesthetics is here to help. We are known for being the premier medical aesthetics provider in the Portsmouth, NH, area. Our highly trained professional team is here to ensure you get the best results possible while in a warm and inviting atmosphere. 
From sclerotherapy treatments to dermal fillers, our goal is to provide excellent service in all aspects of aesthetic care. Schedule your initial consultation today and start your journey to beautiful, healthy skin. We look forward to helping you achieve the results you desire!